The Keiler [Wild Boar]
The Keiler is the wild boar among the ski bikes. It is your robust companion on the wild ride over slopes and in deep snow. With its long suspension travel, it can withstand extreme terrain and heavy use, making it perfect for enduro and downhill.
Starting at 4.300,-€
excl. shipping
Show in Shop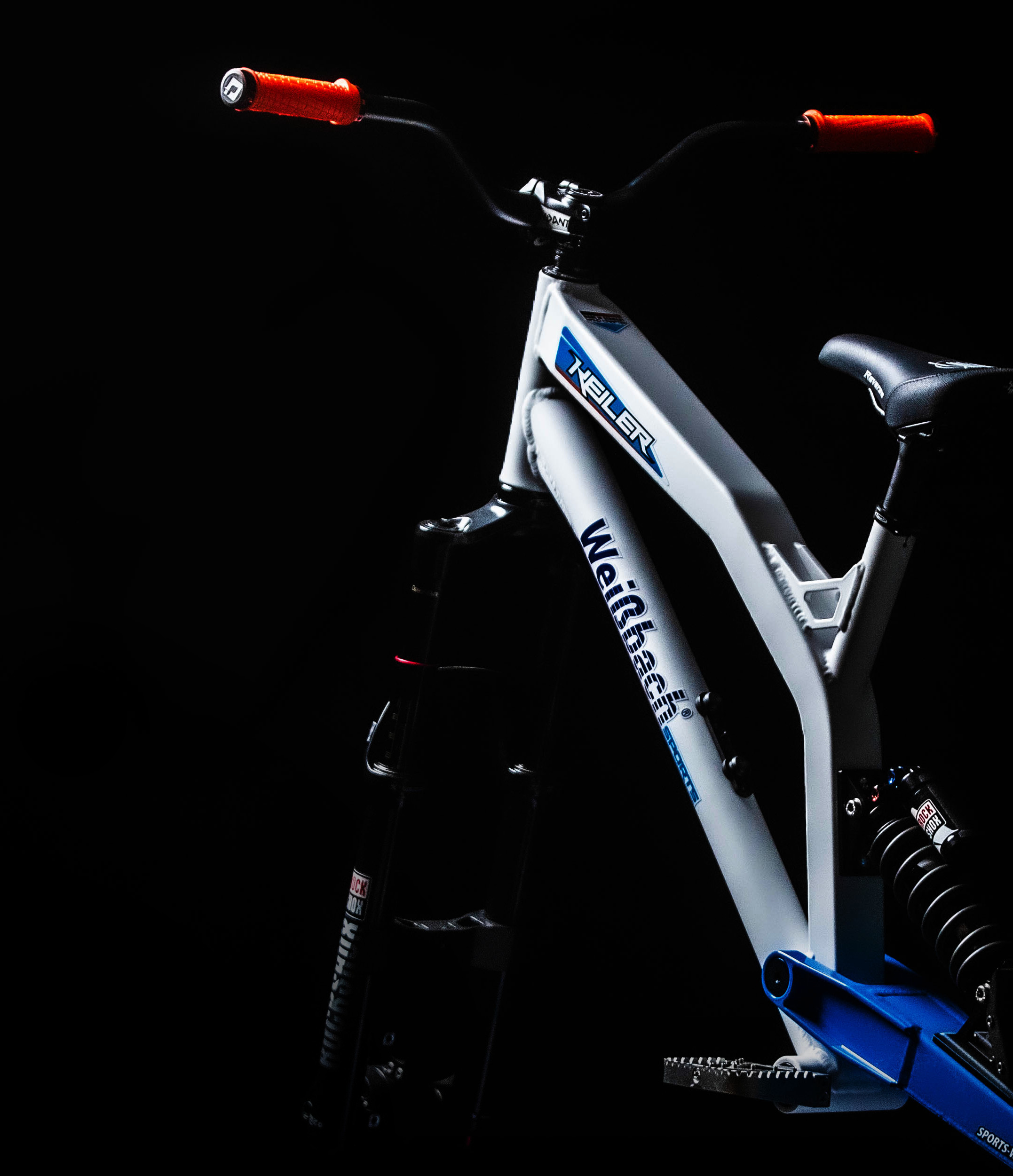 Technical specifications
Frame material

Aluminium EN AW 7020

Frame size M

1,55 – 1,80

m

Front suspension

Rock Shox Yari 170mm

Bearings

self-lubricating plastic bearings
Material Footrests / Torsion system

Aluminium EN AW 7020 / Sainless Steel A2

Frame size L

1,78 – 1,95

m

Rear suspension

Rock Shox Vivid RC2

Frame color

snow white & sky blue
Dimensions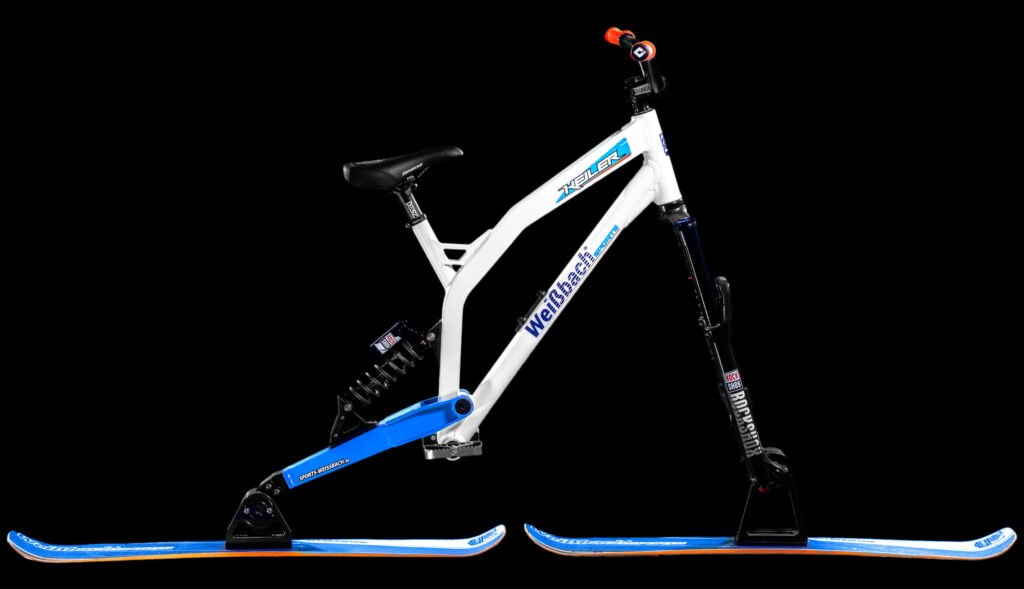 200 (M) - 204 (L) cm
103 (M) - 104 (L) cm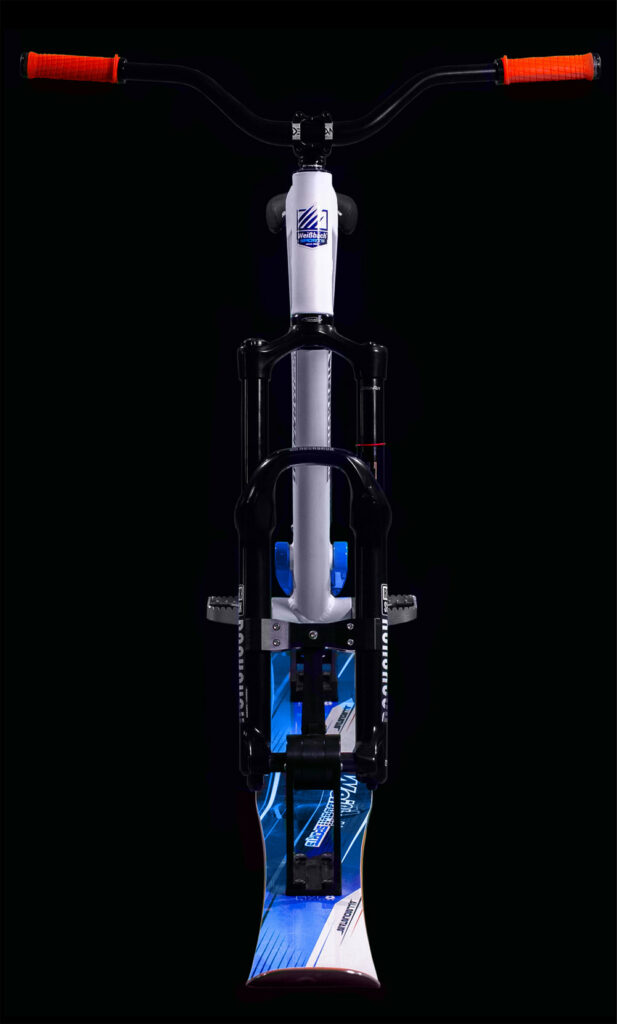 73 cm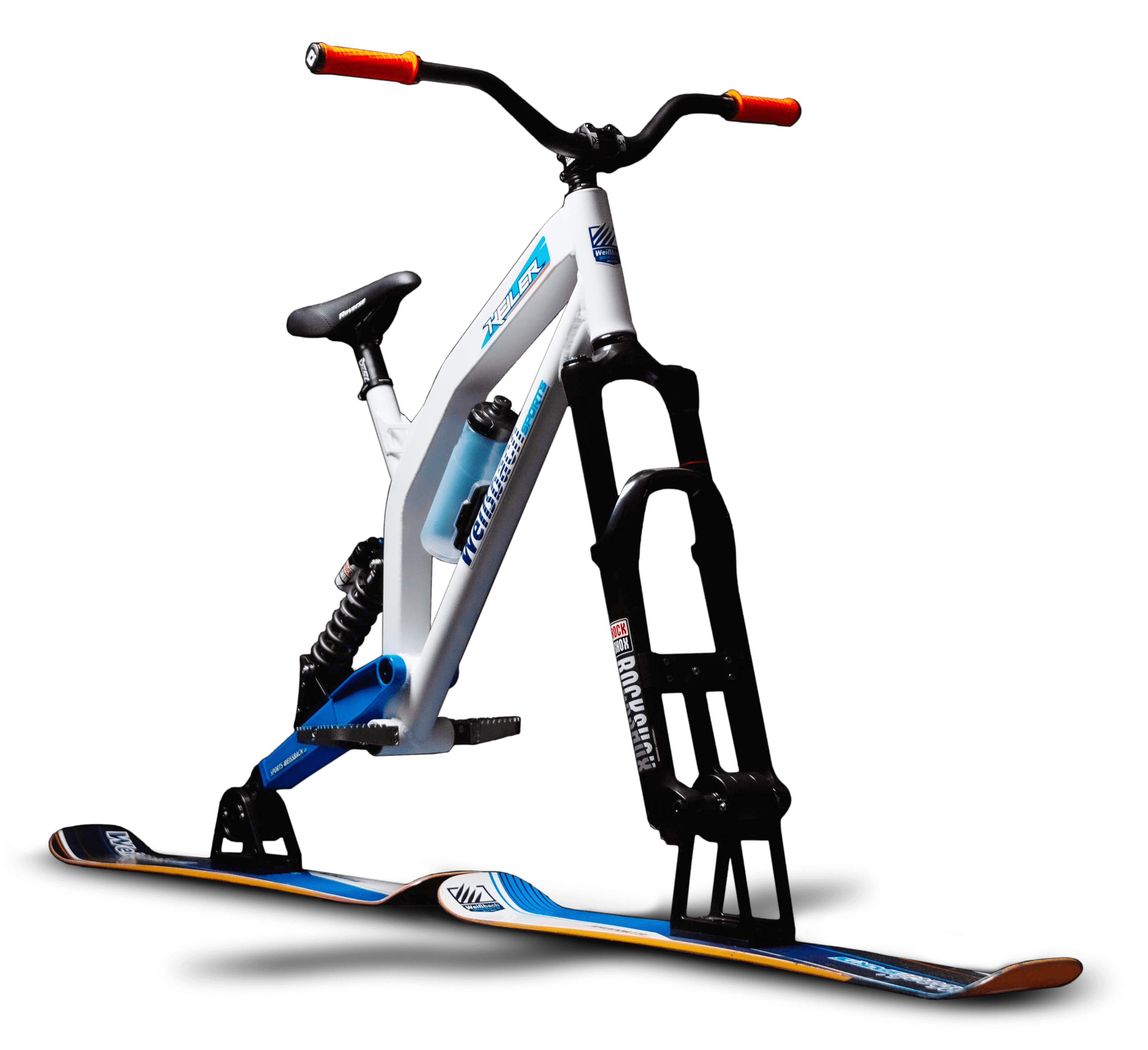 200 (M) - 204 (L) cm
103 (M) - 104 (L) cm
73 cm
Range
Features
We use high quality components of the brands RockShox, Truvativ, Reset Racing, ODI, Reverse Components and Fidlock. We tested all parts in action, and under extreme loads. They work together perfectly with the components we developed.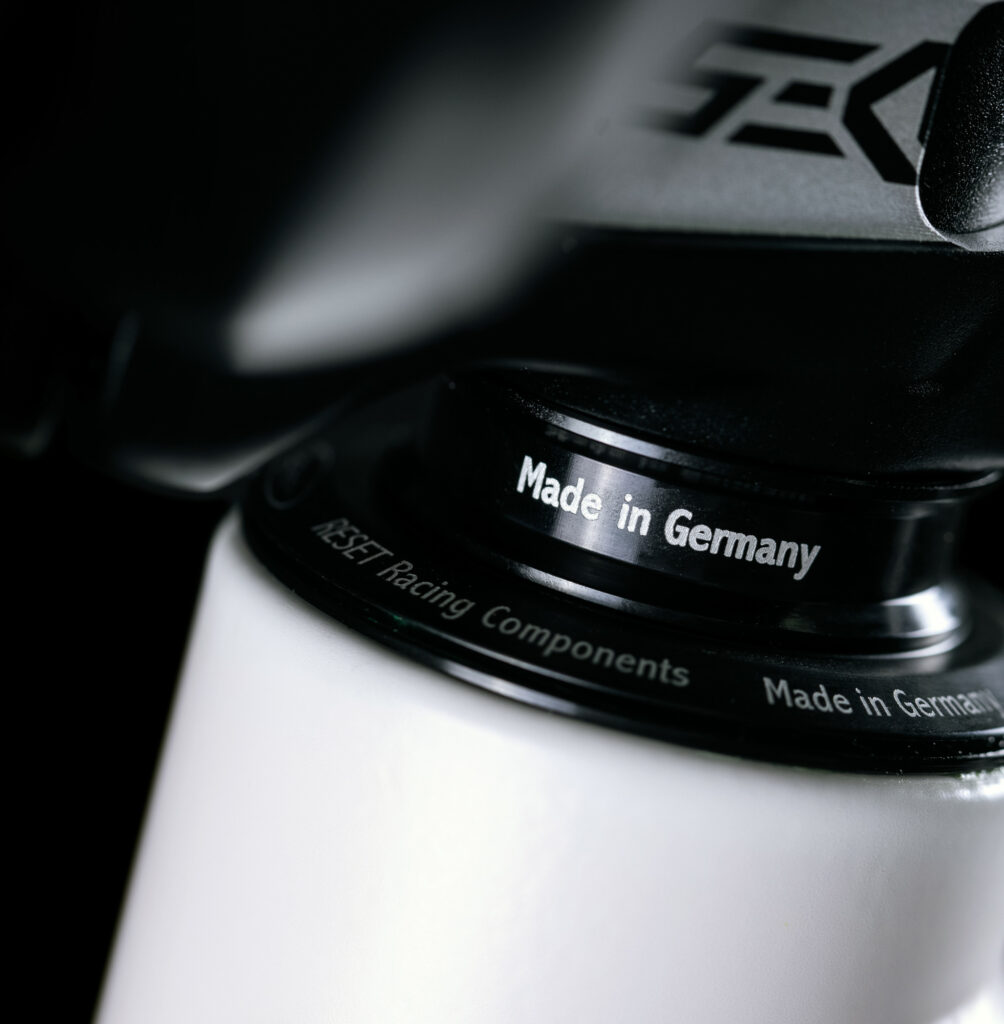 Reset Racing Headset
The Reset Racing headset is Made in Germany and offers the highest quality for heavy use.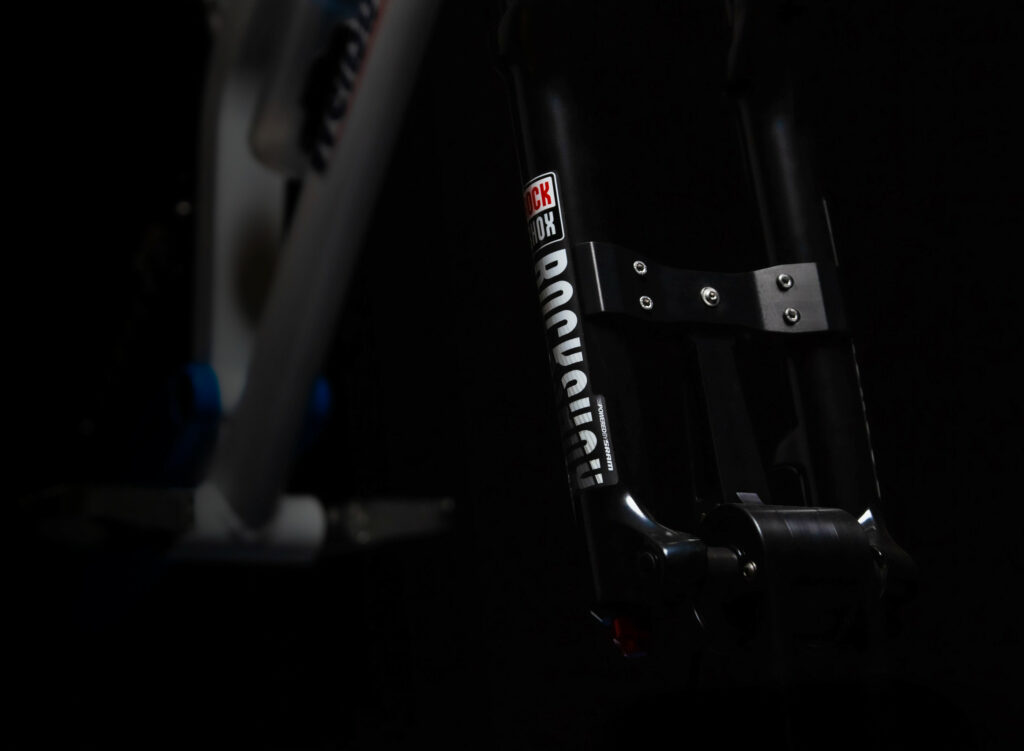 Rock Shox front suspension
Rock Shox by SRAM supplies high-quality components that are very user-friendly. The model Yari in 170mm is used in the Keiler, and stands for high reliability in the field of enduro sports.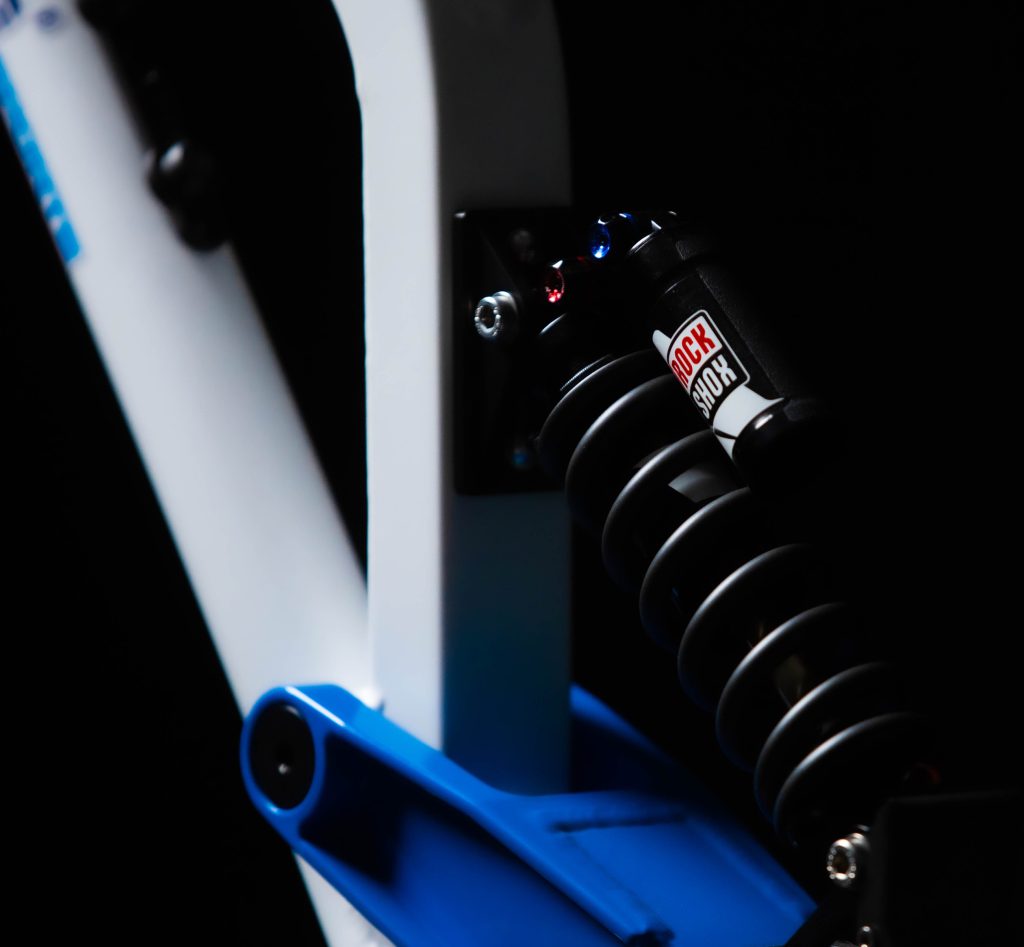 Rock Shox rear suspension
The Rock Shox Vivid Rc2 spring damper is used on the rear end. This spring damper works stably and reliably in all temperature conditions.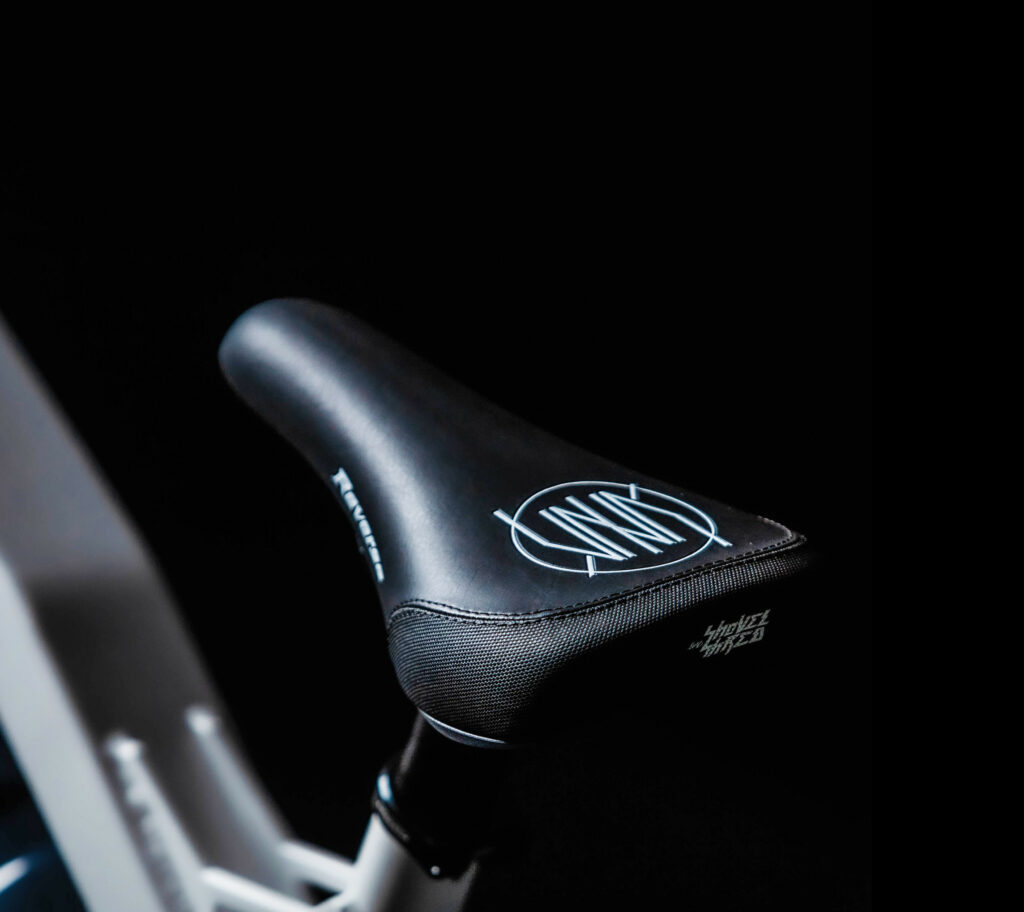 Sattel Reverse Components
This Kevlar reinforced saddle with high, reinforced flanks combines durability and high freedom of movement. It is carried by a high-quality Truvativ seat post.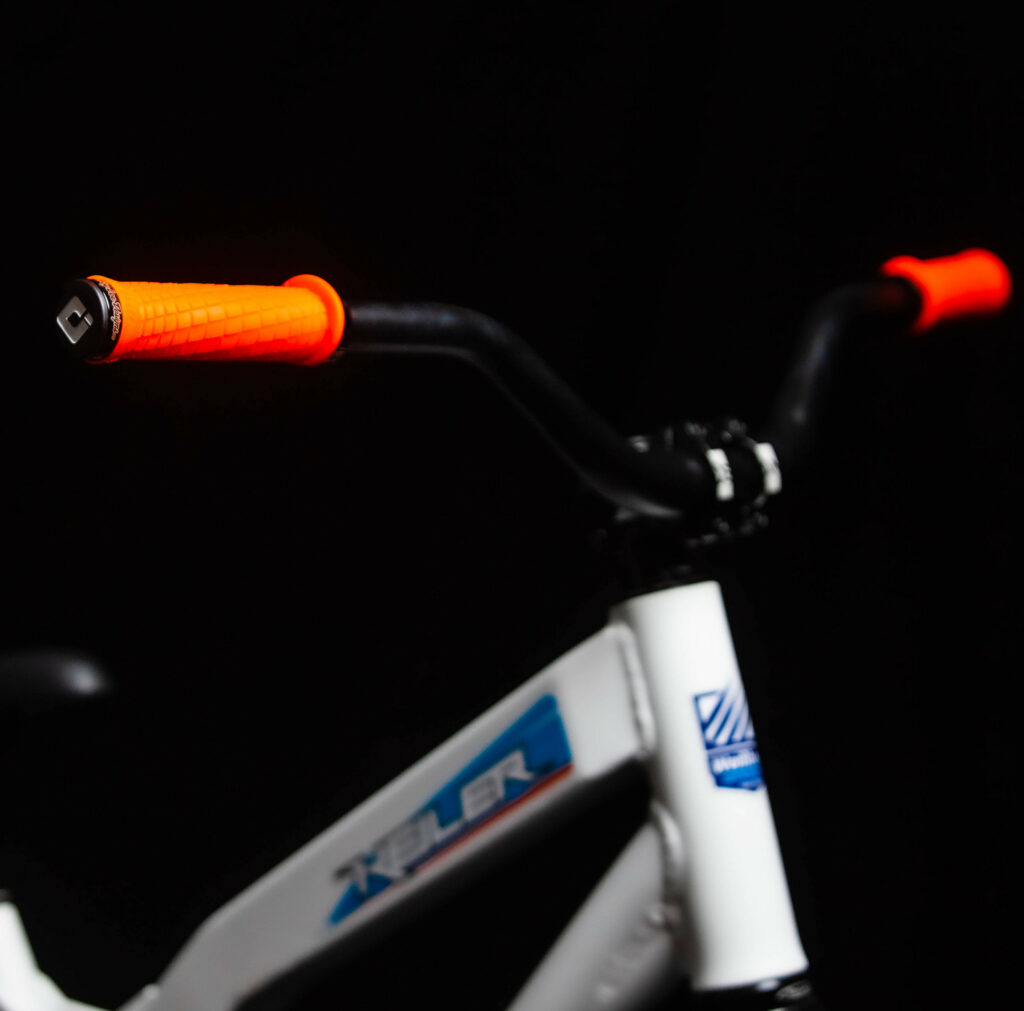 Cockpit
The combination of Truvativ Dezendant stem (35mm), BLB High Rise handlebar (31.8mm clamping) and handles by Troy Lee Design offers optimal Hold and full control.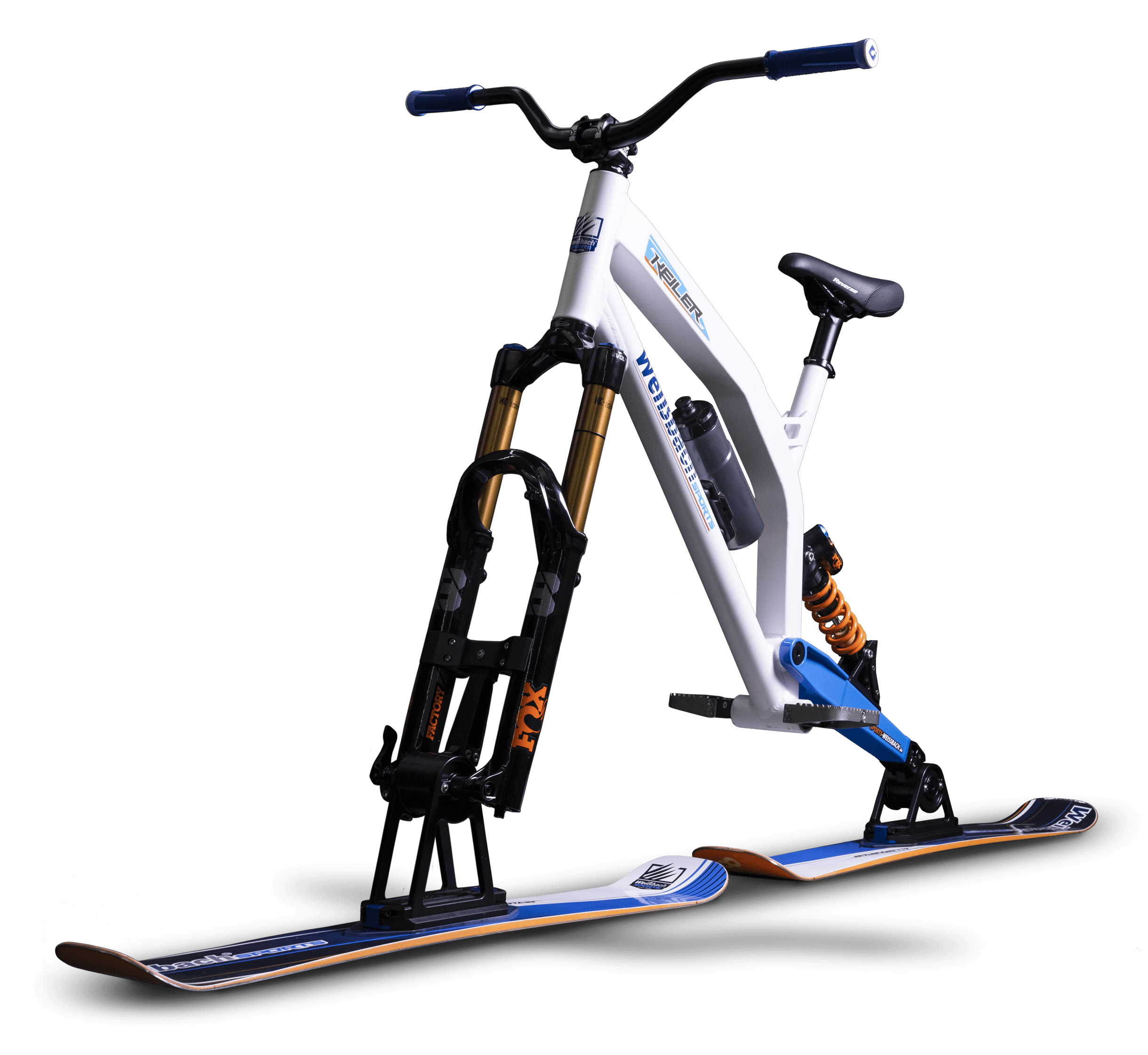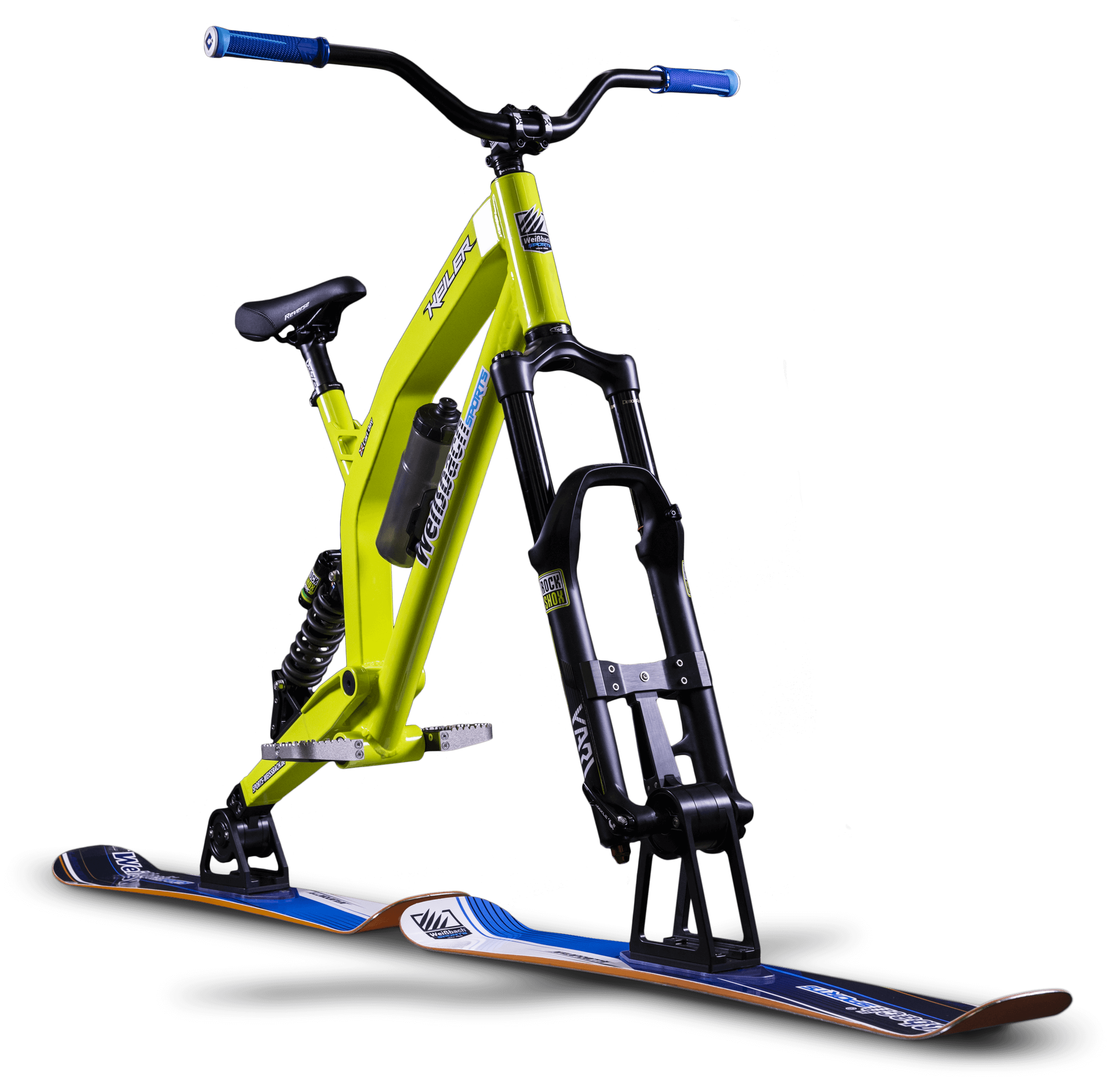 Customization
Do you fancy your own design? Our bikes can be adapted in many ways, so you can put together your own personal bike technically and visually.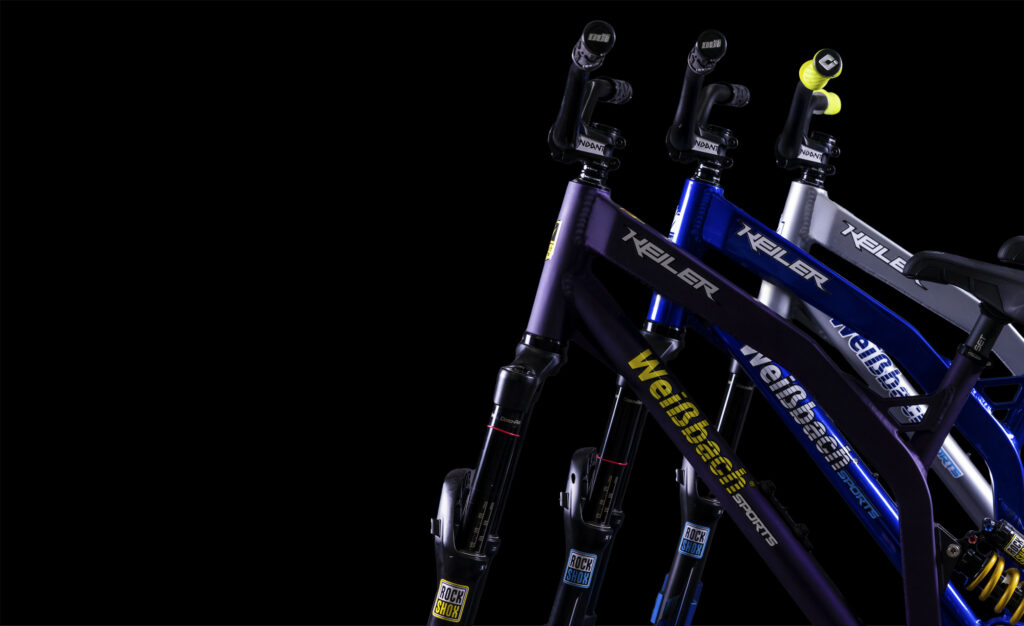 Powder coating
For the powder coating of the frame and swing arm, you can choose from 12 colors and finishes by default. Simply black, velvet purple or do you prefer acid green?
For your chosen color concept, we also offer a visually matching sticker set so that your Keiler becomes unmistakable and unique.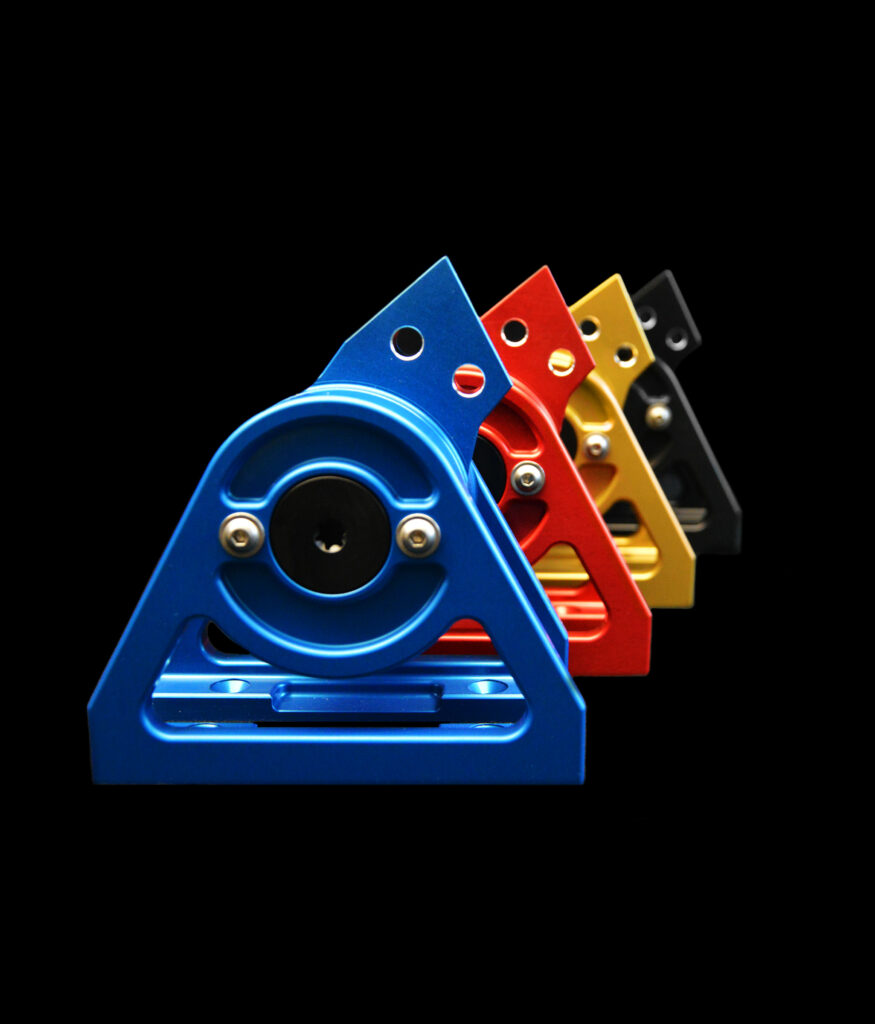 Anodized CNC components
For the torsion system, the damper mounts and footrest cores, you can choose between 4 coatings to match the frame finish.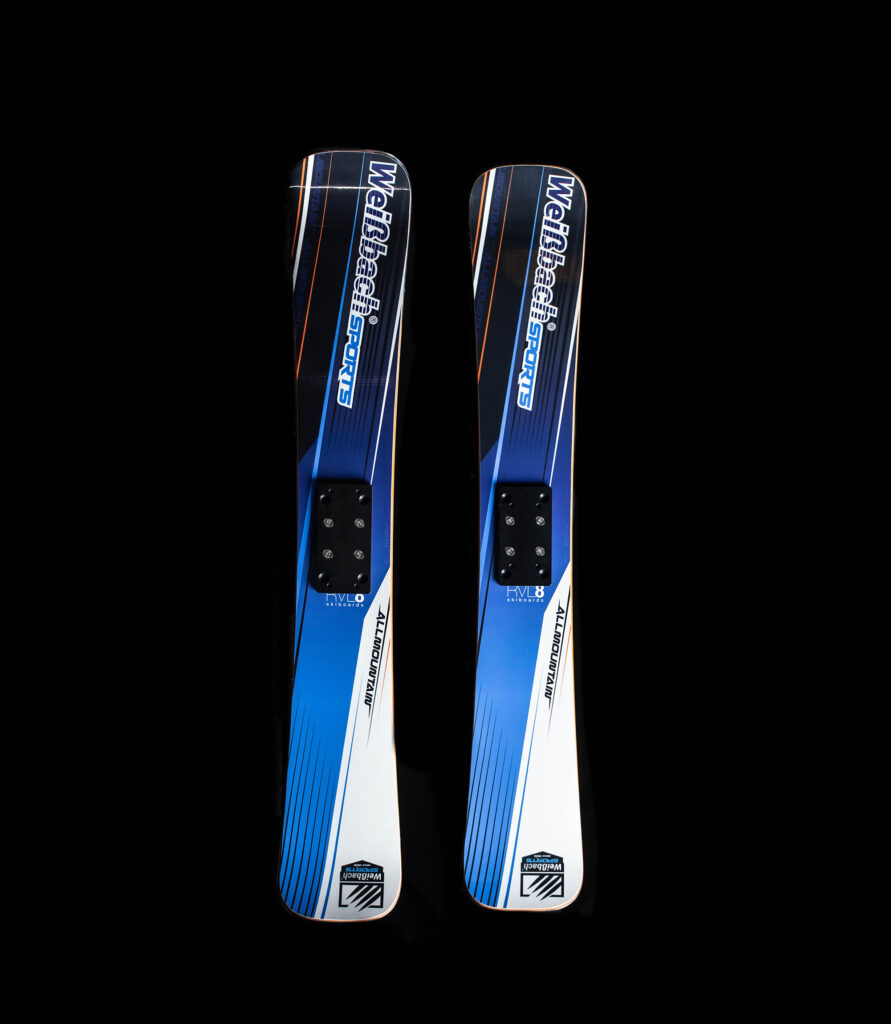 RVL8 Allmountain Ski
Depending on what you intend to do, you can choose between an all-mountain ski and a powder ski.
The Allmountain Ski from RVL8 Skiboards is the perfect companion on groomed slopes, but also masters a detour into untracked terrain.
Starting at 365,-€
incl. adapter plate set
excl. shipping
| | |
| --- | --- |
| Agility | |
| Directional stability | |
| Slope | |
| Powder | |
| Tricks | |
| Beginner | |
| Advanced | |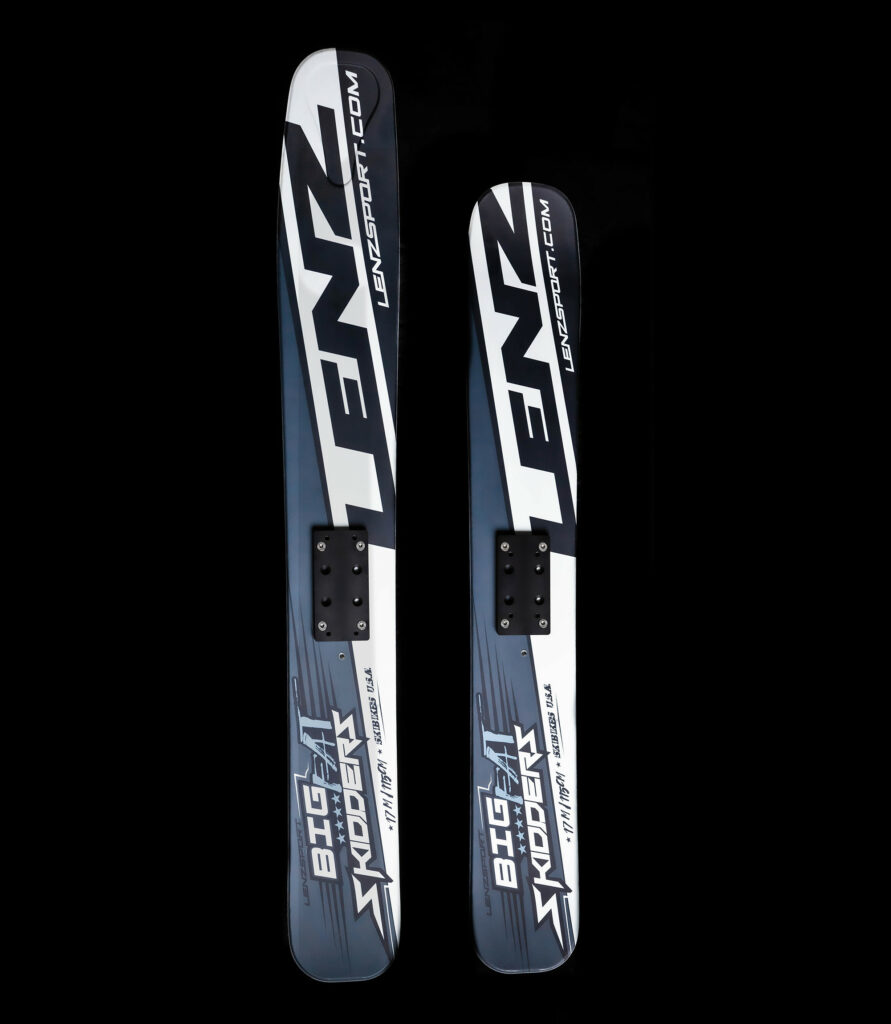 Lenz Sport Powder Ski
The Powder Ski by Lenz Sport is stiffer and longer than the Allmountain Ski and thus enables more stability in untracked terrain and higher speeds on the slopes. For the ultimate feeling of freedom when riding in powder snow.
Starting at 575,-€
incl. adapter plate set
excl. shipping
| | |
| --- | --- |
| Agility | |
| Directional stability | |
| Slope | |
| Powder | |
| Tricks | |
| Beginner | |
| Advanced | |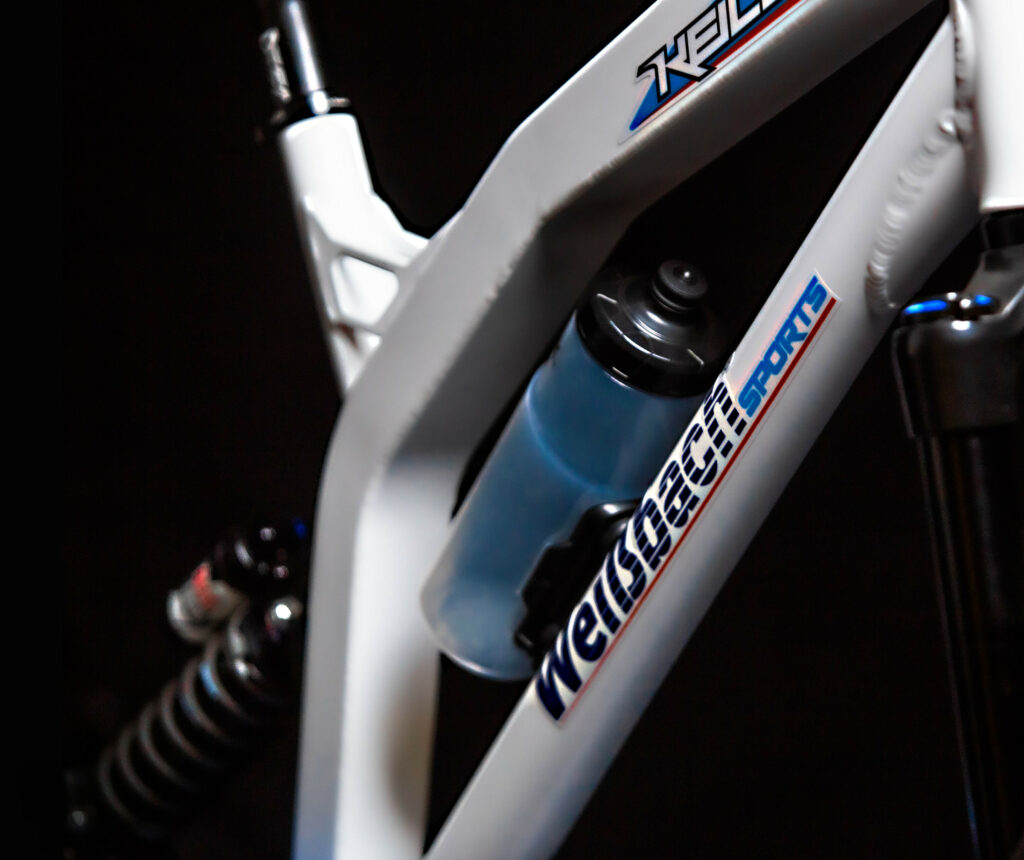 Fidlock System
This bottle holder system has already proven itself in the bicycle sector for easy fastening of drinking bottles or tool boxes. Magnets ensure a reliable hold with easy handling. If required, your Skibike can also be fitted with a Fidlock system.
Order online soon
Our online shop is currently under construction, you can send us a short message with your request or an order using the contact form.
Go